Motor System MD 30
Motor system for oral surgery and implantology
A motor system capable of perfectly accomplishing any step of procedure in Implantology
Configuration menu to customize device after your favor.
Intelligent safety system with acoustical and optical signal and additional blocking of motor drive (e.g. open pump compartment, not connected motor or pedal).
70 Ncm of maximum torque with the 20:1 contra angle with graphical, real time torque control on display.
Sturdy, high quality architecture and finish.
Advanced motor system with sophisticated motor control for smooth and precise power delivery in any speed range.
Multifunctional pedal with motor selection, pump performance adjustment, program selection and motor speed control.
Calibration of handpieces and contra angles.
Real-time speed and torque report.
10 Pre-set programs for each motor configuration.
Integrated pump system for cooling the instrument to avoid tissue damage.
Suitable accessories
Highly advanced motor system for various usage in oral surgery and implantology.
All handpieces and contra – angle handpieces are equipped with a cooling clip for the internal and external cooling.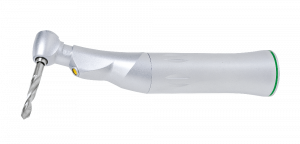 The 20: 1 LED contra-angle brings "the light to the point".
Excellent lighting conditions facilitate the way to
perfect treatment results.
The solid construction of the products guarantee a long service life and ensure trouble-free reprocessing.

Tubing-Set
Proven quality accessories will give you reliable safety and high application efficiency.